Who is online?
In total there are 2 users online :: 0 Registered, 0 Hidden and 2 Guests

None

Most users ever online was 76 on Thu Jan 04, 2018 9:05 pm

[Kryptonite] Gandora (06/03/2017)

Tue Mar 06, 2018 3:18 am by Kryptonite
Comments: 2
[MissTitannia] Phaethon

Tue Mar 06, 2018 1:07 pm by MissTitannia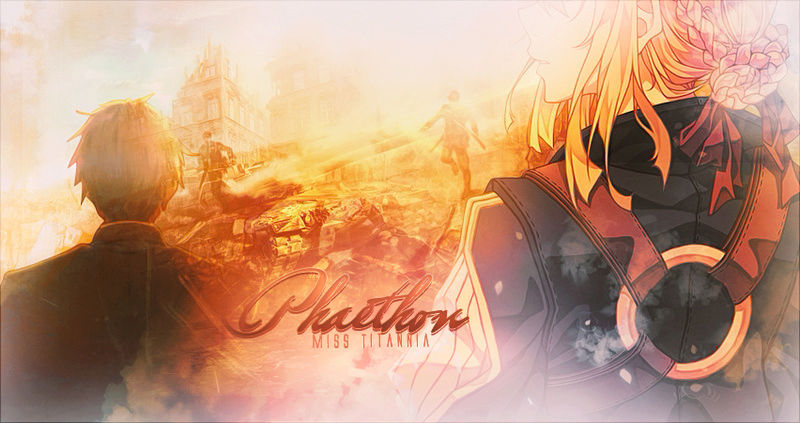 Download Here!

Inspired by and dedicated to PUBG

The story follows a girl who's life was changed by war and by a specific captain that meant everything to her - his name was, symbolically, Phaethon (more about that below). We witness her journey to the grave of the one she loved, and as she travels she relives the horrors of the war again - from being taken away as a child, to having to fight after losing the one she cared for the most.

Special for Soul's Team IC - Team ENP CATastrophe

Category: Horror *unconvincing grin* cause wars are scary and loud. Jokes aside, war is horrifying, and from my perspective this is an "unconventional" view of the horror category.

Anime: Violet Evergarden feat. Youjo Senki, Shuumatsu no Izetta, Toaru Hikuushi e no Tsuioku, Kara no Kyoukai 3: Tsuukaku Zanryuu, Nejimaki Seirei Senki - Tenkyou no Alderamin, Kyoukai No Kanata, Joker Game

Music: The Cranberries - Zombie

The …



[ Full reading ]
Comments: 1
[ZoroIttoryu] Dementia (STIC XIV)

Tue Mar 06, 2018 4:24 pm by ZoroIttoryu

Poster by Dwayn

Downloadlink: https://mega.nz/#!mQYTQCZJ!7RJiyqcxoKVR7gFmFkMb2V5A958rjV395guPJ_HrQuQ
Youtube Link: https://www.youtube.com/watch?v=W0-ZRZqdjQg
Song: Excision & Pegboard Nerds - Bring The Madness (feat. Mayor Apeshit) (Noisestorm Remix)
Anime: Mob Psycho 100, One Punch Man, Code Breaker, K, Kekkai sensen, Bungou Stray Dogs, Black Lagoon, Tokyo Ghoul, Fate Zero, Fate Stay Night, Gangsta, Phantom Requiem for the Phantom, Darling in the frankxx, Canaan, Karas and maybe more i forgot to add.

My video for STIC XIV. I wanted to add more but didnt have the motivation to do so in the extended deadline. Just a random animemix action

[ Full reading ]
Comments: 1
[ Drunkenpony] Vigilance

Tue Mar 06, 2018 7:31 pm by DrunkenPony
Streaming:
Production: Ellines Nakama
Editor: Drunkenpony
Anime Used: Kara no Kyoukai,Dusk Maiden
Song/Artist: Seven Lions - Creation (Beatman&Ludmilla Remix)
Contest Participating/ed: Soul's Team IC XVI Mayem Edition
Download Link
Credits:
Big thanks to
Centori
for the amazing poster
Comments: 2
[RoseBeautyDreams] AMV Calm Down

Tue Feb 06, 2018 11:34 pm by Jojo_RBD
Hellooo everyone! Here is my new amv, I try to improve so I would appreciate your opinion :)



Comments: 2
[MissTitannia] Lockpicked

Mon Jan 22, 2018 9:01 pm by MissTitannia




Helloo my ENP! This is my entry for Crows IC. Youtube version is a bit more contrasted, so for flatter colors, download link is below.

I wanted to edit with Kuzu No Honkai the moment I watched the anime last summer. However, I couldn't find a song that would fit my idea, until I heard Astronomical "Love Lockdown". I couldn't bear to cut it therefore I went ahead and edited the full 4 minute song in 3 days... Therefore there might be some mistakes here and there, though, I am very happy with the result.
I think I managed to convey the story of a girl that fell in love, knew that she should not act upon it, did anyway, and got burned. Or, well, lockpicked, ya know. :)

I took some artistic freedom to depict their night the best I could, so... Recommended for 16+, for nudity.
There are only minor story spoilers, so if you haven't seen Scum's Wish, you can still watch it!

My beautiful poster was made by BREAM: …

[/img(950px,600px):d8c0]

[ Full reading ]
Comments: 3
[Sakon&GoldenThunder] Ominous

Mon Jan 15, 2018 9:02 pm by SakonMV
When you're too desperate that you spam your videos on your team's forum..




Comments: 0
[Sakon] Spotless Mind

Wed Oct 04, 2017 7:34 pm by SakonMV


POSTER BY CEIRIN
DEVIANTART: https://centori.deviantart.com/?rnrd=214087


Hi guys, this is my new video. Please, give me some advices if you want and tell me if you liked it! This is the first time that I try to do something like that.





Comments: 3
[ENP MEP] Incidamus (1/10/2017)

Mon Oct 02, 2017 4:09 pm by ZoroIttoryu
Poster made by Ceirin

https://centori.deviantart.com/






Editor's Words: This is the MEP we did for Zona's Lucky Star IC. We decided to go with a depression theme accompanied with black and white cc plus some "sin city" type of coloring. I think it turned out pretty well! Also good job to the new members Jose, iKuro and Reyzen for making their first ENP Mep part <3
Incidamus means Depression in Latin.





Part 1 - Mystyk (kokoro ga sakebitagatterunda)





Part 2 - DrunkenPony (koe no katachi)





Part 3 - Jose (zankyou no terror)





Part 4 - iKuro (kimi no nawa)





Part 5 - Reyzen (death parade)





Part 6 - ZoroIttoryu (orange)




…



[ Full reading ]
Comments: 2
[MissTitannia] My Tempest

Mon Oct 02, 2017 4:40 pm by MissTitannia
Download:
Better quality and extra lipflaps
Editor's Words: My entry for Lucky Star IC hosted by Zona AMV. I finally got inspiration to FINISH something, and despite it being an IC, I am really satisfied with the result.
I managed to convey my feelings and that's all that matters to me.
I know I did something right when editing the ending made me cry!
About the ending being different:
Song: Fee - Everything Falls
Anime: Akatsuki no Yona
Quotes from "The Tempest" by William Shakespeare, inspiration:
Poster made by Bream:

#BRINGBREAMBACK



[ Full reading ]
Comments: 2
May 2018
Mon
Tue
Wed
Thu
Fri
Sat
Sun

1

2

3

4

5

6

7

8

9

10

11

12

13

14

15

16

17

18

19

20

21

22

23

24

25

26

27

28

29

30

31

Calendar
Statistics
We have 993 registered users
The newest registered user is juman ak

Our users have posted a total of 24731 messages in 2498 subjects